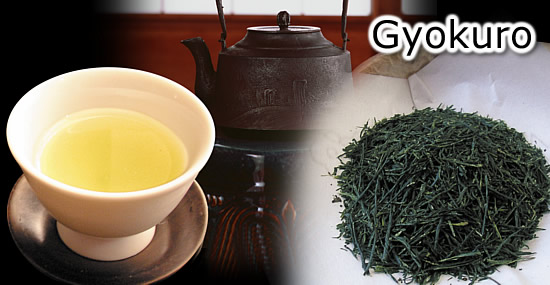 Maiko no Cha headquarters is located in Kyotanbe city which is known throughout Japan as the capital of high-class Gyokuro.
Gyokuro is produced from fields (ooishita-en) that are shaded from
mid-April. After the buds are picked, they are steamed, dried and
kneaded. Gyokuro is the highest grade of Japanese tea available and is characterized by its fine green color, rich aroma and mellow sweet flavor.
When it comes to superior grade Gyokuro, many people are surprised by it's uniquely intense taste. This is not an everyday beverage that can be drunk in a rush, but needs to be sipped very slowly in order for its flavor to spread throughout the mouth baptizing each taste bud with it's deep and enchanting aroma.




For those customers who have never tried Gyokuro before 'Fugenji Midori' is the one we would recommend. If you use boiled water cooled to 50 - 60 $B!n(J, you will be able to enjoy the delicious balance of extremely mellow astringency blended with the typical sweet Gyokuro flavor.

How to prepare delicious Gyokuro

---

$B!!(J

Item#

135

Name

Gyokuro "Fugenji-Midori"

Net weight

Shipping weight

Storage life

10 months

Price

2,700 yen


Please order from our new webshop


'Nanzen' means 'Southern Zen' referring to the calm back country of Southern Japan. This tea is a very popular gift item in Japan and those who have received it as a gift often become customers to order more of the same.
This is fine quality Gyokuro with a lightly cleansing of the palate. Please use cooler water (50 - 60 $B!n(J) to prepare.

How to prepare delicious Gyokuro

---

Item#

145

Name

Gyokuro "Nan-zen"

Net weight

Shipping weight

Storage life

10 months

Price

2,025 yen


Please order from our new webshop


This Gyokuro is also very popular among our MaikoTea items. It is a better quality tea with a classic sweet Gyokuro flavor and a very subdued and mellow astringency. Preparing the tea with hot water will not create a bitter flavor.

How to prepare delicious Gyokuro

---

Item#

155

Name

Gyokuro "Higashi-yama"

Net weight

Shipping weight

Storage life

10 months

Price

1,350 yen


Please order from our new webshop



Preparation of various

Gyokuro

Maccha

Sencha

Shiawasecha